Posted by Addison Henry in Executive Leadership Coaching
on Jan, 2019 | 0 comments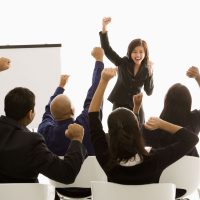 Exceptional leaders aren't born. They're made. If you want to achieve greater levels of success and satisfaction in your professional and personal life, then working with a coach for transformational executive coaching may be the answer. Read on to know what you can expect when you start working with a coach.
Know yourself
One of the best things about receiving transformational executive coaching sessions is that you get to know yourself pretty well. By identifying limiting beliefs you will identify your strengths, what are you good at, what stresses you out, and what you need. All these will help you achieve more results faster.
Build motivation
Great coaches do a lot to motivate you to work harder and push you to go beyond your boundaries, the Houston Chronicles says. They know what buttons to push and what kind of strategy to use to help you achieve your vision with greater ease. That's valuable assistance you can count on when you hire an experienced executive leadership coaching firm.
Build stronger relationships
Knowing how to change yourself for the better can help you improve your confidence on many levels. You'll also come across as more authentic, which will help you earn other people's trust and regard. That's a key factor in building an inspiring leadership presence. By getting executive coaching, you not only get the tools to be a better leader, you also learn how to be better at relating to people in your personal life. Everybody knows people skills often separate exceptional leaders from bad ones.
Achieve your goals
With executive coaching, you'll know how to better use your resources to align your work and life with your goals. And you'll learn how to do it with ease and grace instead of achieving everything at the expense of your health and peace of mind. Know how to do it without stressing yourself out and driving yourself to the ground in exhaustion. You will see how to balance everything and achieve more faster through your coaching sessions.
Add to favorites