Posted by Addison Henry in Electrical
on Aug, 2015 | 0 comments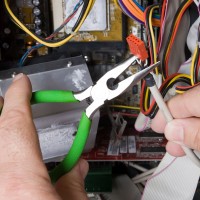 An electrician will change his office all of the time. On some days he might perform time consuming tasks inside a large factory, whereas other days he will install and troubleshoot small electrical appliances inside residential properties. Currently, there are over 20,000 electrical contracting companies scattered around the United Kingdom, with over 365,000 people being employed in this industry alone. Despite the fact that a lot of people choose a career in the electrician trade, there is still a shortage of licensed electricians in the UK. This is why you should take the time to find a tradesman with the essential skills, from good time-keeping to the ability to create technical drawings.
Compare Tradesmen Online
The Internet will be your best friend when you are hunting for an electrician, because you can compare professionals in your area without arranging boring phone calls and meetings. Check out a number of review websites at this time and take the time to assess the tradesman's website. A clean, expert-looking website will make them look like an industry leader, so let this digital design teach you a little about the electrician's work ethic and level of professionalism. Don't let cheap quotes sway your decision though – good prices don't reflect good service!
Read Customer Feedback
Are you interested in what previous customers have had to say about the electrician you're about to hire? If not, you should be, because  reading positive reviews will make you feel more confident about trusting an electrical expert and handing over your money. There are a few websites out there that you can use to your advantage for finding out what people have been saying such as Trade Critic, Quality Tradesmen and eTradesman. Sites like this will feature reviews submitted by real people, like you. It might not be the most enjoyable of tasks, but it will prevent you from working with a novice disguised as an expert.
Discuss Available Services
Isolated repairs, minor upgrades and inspections are three of the most basic services that every electrician will be able to offer. Wiring problem troubleshooting will be one of the professional's speciality skills. Another will be fitting smoke detectors that meet specific security standards.This isn't all you should be looking for in a reliable electrician though, because someone with extensive experience should also specialise in basement finishing, landscape lighting and security systems.
Whether you require assistance with a commercial or domestic job, the registered and licensed team at AZAP Electrical won't disappoint. To get a free quote today, call the team on 0422895094.
Add to favorites