Posted by Timothy Harvard in Machinery and Tools
on Nov, 2018 | 0 comments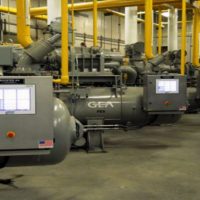 if you need a company to take care of your large-scale refrigeration systems, you can choose from many industrial refrigeration services. However, when you go with a business offering process safety management, you enjoy a wide range of benefits. Here is more about this important service.
Ammonia Refrigerant
Many industrial cooling systems use ammonia (NH3) as a refrigerant. It is very efficient and the best choice for many processing and manufacturing companies. It is also good for the environment. Yet, ammonia is toxic, and when released into an industrial environment, it can present health hazards. NH3 irritates skin and respiratory tracts, and in strong concentrations, it inhibits breathing.
It is very important to prevent NH3 from getting into your facility's environment. In fact, it takes special precautions. Process safety management (PSM) is all about preventing hazardous chemicals from escaping equipment. There are specific standards and measures required, and the best industrial refrigeration services can help your company in many ways.
Experience
The top companies have years of experience with PSM. They specialize in ammonia refrigeration and help you with your process safety management program and make sure you comply with all OSHA regulations. They involve all their employees in the process.
Ventilation
Proper ventilation is vital for NH3 systems, and the top industrial refrigeration services can design and install many kinds of ventilation systems, including ones for engine rooms. They provide audits and process analysis services too.
Training
Your NH3 refrigeration experts provide safety training for your PSM program. They have a great deal of training information available and can come to your facility to provide training to your employees.
Other Services
Your PSM experts can help with your refrigeration pipe stress testing. This ensures you do not have any problems with leaks or pipe breakage. They also offer safety reviews for new facilities and major upgrades.
Add to favorites