Posted by Phineas Gray in Home Improvement
on May, 2015 | 0 comments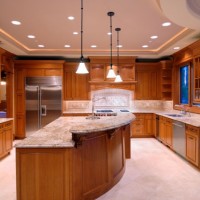 Are you happy with your home décor? If not, it might be time for an update. There is one particular room in the home that will need your attention more often than others – the living room. A place to lounge, entertain and watch movies with the family, this room should mirror your personality. When you consider the fact that visually-aesthetic surroundings have been proven to enhance a person's social emotional, spiritual and intellectual well-being, it's important that you set aside enough time to design this space.
Tropical Living Room
Do you like to travel? If so, you should think about introducing exotic elements in the form of tropical plants, textured wall coverings and bamboo rugs. The tropical living room style can be seen in homes around the world, perhaps because it is so easy to emulate. Rich, warm colours like orange, red and purple look beautiful when set against a neutral background. Dim lighting sets the mood and natural materials like wood and hemp bring an element of the outdoors into the home.
Victorian Living Room
Take a step back in time and transform your living room into a Victorian palace. This can be done on a budget, because you can shop for rare treasures, intricate ornaments and unique antiques at flea markets and jumble sales. Some Victorian features that make up a timeless living room include grandfather clocks, pendant lighting, heavily upholstered furniture, wall-adorned artwork, stained coffee tables and patterned carpet. Tie it all together by introducing thick curtains in dark shades. Window treatments also work well to give the home a Victorian vibe.
Modern Living Room
The great thing about a modern living room is that you can constantly update it, thanks to the many contemporary pieces of home décor being introduced all of the time. The colour palate should be simple and should combine an even blend of light and dark shades. Metal and plastic are two materials that will give the living room an ultra modern feel, but don't be afraid to explore with natural materials like wood. White lilies will enhance air quality in the space and give it a touch of elegance. Position a mirror opposite a window to brighten up the space and make it look larger than it really is.
Whether you plan on updating the design of your kitchen, bathroom or living room, the team at Konstruct Interior Solutions can help. Call 07 3276 1948 if you want all aspects of your project managed. You can like them on Facebook.
Add to favorites