Posted by Addison Henry in Construction and Maintenance
on Apr, 2016 | 0 comments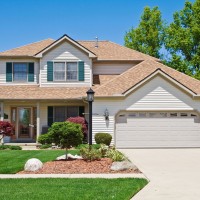 If you are planning a new garage construction there are a number of things that must be taken into account. Some of the most important include the garage style, the construction material and the size. Perhaps of these three considerations, choosing the correct size is the most important. When deciding on the size of the garage you must consider your car, the amount of walking space and the area of land that is available to build it on.
Based on many years experience, contractors that are involved in garage construction have determined the minimum size for a single car garage to be 12 feet wide and 20 feet long. The minimum size for a two car garage is 18 feet wide and the same depth; 20 feet. These dimensions are minimums and are acceptable if the objective of your new garage is simply to park your car with limited room to walk around in. When you are deciding on the size of your new garage measure your vehicle with the doors open but, never forget that in the future you may buy a larger car.
Storage:
Rarely will a garage only be used for housing the car; your new garage is the ideal place to store all your gardening equipment, sports gear, tools, workbench, etc. All of these things and more should be taken into account. It is amazing how much additional space there is when you add three or four feet to the depth or width of the garage.
Walking space:
Leave yourself plenty of room to walk around in your garage. A good rule of thumb is four feet on all sides of the car.
The last important consideration when you are planning new garage construction is the amount of available land. If you live in a residential area there may be specific rules that are enforced to ensure the garage is not too close to your neighbor. Contact Absolute Garage Builders for more information also like our facebook page.
Add to favorites