Posted by Addison Henry in Moving and Storage
on Aug, 2018 | 0 comments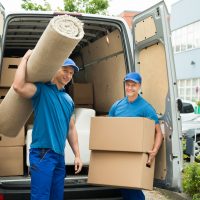 Relocating means making many decisions in a short time. From choosing supplies to deciding on a move-in date, the to-do list may be quite long. However, one of the most important decisions to be made is choosing the right state to state movers in Boston MA. With hundreds of options, it's hard to pick the right one, and it's crucial to ask the right questions before making a choice. To find the right company, ask the questions listed below.
Is the Company Licensed?
To avoid scams, be sure to ask whether the company holds the appropriate state licenses. All interstate movers should have a DOT-issued license number, and potential customers can go online to check companies' numbers and complaint histories. Conversely, local movers are regulated by the state, not the DOT. Therefore, a local moving company should hold a state license.
Has the Company Done Similar Moves in the Past?
Be sure to ask the movers whether they've had experience with similar moves. For example, if the family is moving to a condo or into a city, it's important to ask whether the crew has handled such a move. Professional movers should be prepared to handle things such as steep stairs, parking restrictions, and narrow doorways.
What Sort of Liability Coverage is Available?
Before trusting a moving company with the family's possessions, it's important to ensure that they'll be protected. Whether it's an across-the-street move or the family is moving across the country, state to state movers in Boston MA should have several liability insurance options from which to choose. A licensed interstate mover must offer two different types of liability coverage: released value and full value, as defined below.
* Released Value Protection: This is an economical option because it's offered at no charge. However, it offers minimal protection, as the mover assumes liability for only 60 cents for each pound of household belongings.
* Full Value Protection: Here, the mover is responsible for the replacement cost of goods damaged or lost in shipment. This is the most comprehensive type of protection available, and cost varies by company.
Customers may also buy insurance from a third party. However, before doing so, the Federal Motor Carrier Safety Administration suggests reviewing a homeowner's policy to verify coverage. Check out Bunkerhillmoving.com to learn more about our insurance, licensing, and other considerations.
Add to favorites