Posted by Timothy Harvard in Business & Economics
on Jun, 2015 | 0 comments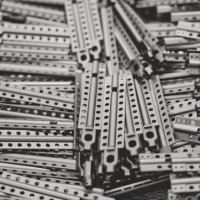 Businesses today face some challenges when it comes to rust and corrosion. In fact, with many companies downsizing and outsourcing, it's important to find business solutions that are also affordable. This is why you should check into anti-rust coating services with the ability to meet all your needs. Here are some of the available choices for coatings today.
Determining Your Specific Needs
What do your products need protection from? Is it the wind, rain, and the elements? Maybe you need protection from harsh chemicals. Perhaps you require high resistance to rust and also resistance to chemicals and other hazards. Once you understand your needs, you then can choose the best anti rust coating for your business.
Powder Coating
If you are thinking about painting, powder coating is far superior. It is commonly used in many types of metal finishes exposed to the out of doors. Powder coating is also very sturdy and durable and has several significant advantages:
 * Can provide a bright and colorful, durable finish
 * Moisture and heat resistant
 * Fade resistant in UV light
 * More eco-friendly than paint
 * Scratch and abrasion resistant
Powder coating is an excellent choice for outdoor applications. However, if you need something for metal exposed to harsh chemicals or you want an anti rust coating that is also non-stick, you may wish to go with another option.
Epoxy Coating
Do you need equipment for waste or water treatment facilities? Epoxy is a resin type polymer that is resistant to chemical corrosion. It can be applied in thin or thick coats, and is a good choice for valves and piping equipment.
Thermoplastic Coating Powder
This material is sometimes used as an alternative to stainless steel. Thermoplastics are made from plastic materials that become liquid when heated and return to a stable state once cooled. Select thermoplastic products like Plascoat can be used in a broad range of applications. It is resistant to impact, water, salt environments, low temperatures and is safe enough to come in contact with food items. Plascoat is often used on industrial walkways and plant structures.
Polymer Coatings
Polymers have the ability to stretch and return to their original shape. This creates a good anti rust coating that is also flexible and durable.
Halar
Halar is a special polymer with unique properties. For example, it is resistant to permeation and heat. Also, it is very resistant to many types of chemicals. Halar coatings perform well in acidic environments and resist some solvents. Halar also has exceptional heat resistance, which makes it the perfect choice for many types of caustic environments.
If you have special anti rust coating needs, consider Secoa Technology. We can help you choose the perfect coatings for your products.
Add to favorites