Posted by Addison Henry in jewelery
on Aug, 2018 | 0 comments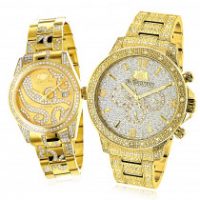 Buying a gift for your newly-married friends can be tough. If they both love a good watch, though, then buying a pair of his and her watches can be an excellent idea. Here's what you need to know before you shop for the perfect gift.
Consider a functional design
Look for watches that are functional and fashionable. That's one of the first things you'll need to look for when you shop for a pair of watches. Don't get taken in by designs that are purely about fashion, but aren't as functional, not unless that's the type of watch your friends go for.
Count the cost
You don't have to spend a fortune on getting the right gift. Keep that in mind when you shop for his and her watches perfect for your friends. However, if you're buying a pair for your favorite couple in the world—your parents—then a bit of expense is nothing. Decide whether you want to save a bit or splurge on the watches, then. That's going to help guide your buying decisions.
Consider what they need
There are plenty of watches online that sport a slew of designs and styles. Some have a minimalist look. Others are more ornate or showy. There are also aviation watches, driving watches, diving watches, and more. Which ones are perfect for the couple you have in mind? Consider what they do for a living, for instance, along with what they like, Esquire says. That can help you figure out which watches match.
Shop online
Check out options from reputable online shops and stores. Don't stop until you find options that fit the taste, price, and preference of your friends or parents or any other couple friends you plan on buying watches for in the future. With plenty of options to consider, snagging the perfect gift should be easy.
Add to favorites