Posted by Addison Henry in Plumbing
on Aug, 2018 | 0 comments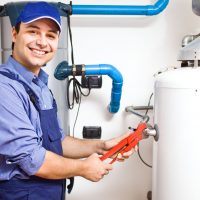 Part of what makes our plumbing services in Marietta, Georgia at RooterPLUS so dynamic is that we are always offering the best and most advanced solutions for all your plumbing needs. Presenting our Marietta customers with a variety of appliance options can help to improve their lives and make water heating a little bit easier.
We are proud to be professional installers of the tankless water heater, an innovative appliance that allows you to have hot water all at oncearound the home. Instead of having to be frustrated with cold water when someone else is using the shower, you can enjoy constant heat at half the cost of a traditional heater. Read on more to find out!
Handle Multiple Jobs at Once
A tankless water heater is a device that is specifically designed to be able to handle multiple plumbing sections at once. This means that you can run your dishwasher, showers, sinks, and toilets at once without ever having to worry about the hot water running out. Replacing a traditional water tank with this kind of heater can save you a lot of frustration when you want to relax at home!
Save Time and Money
Not only are tankless water heaters innovative, but they are also extremely cost-effective. They use less energy which means that you have a reduced rate on your monthly energy bill. Plus, if you already have a tankless water heater installed, having a second one can qualify you for a rebate on your energy payments!
Professional Installation Available
Our RooterPLUS professionals in Marietta specialize in tankless water heater installation. We can not only install it effectively but ensure that it will work as efficiently as possible. Not only does it heat the water in your home, but it can also work to regulate your piping and water sources. We are the premier source of tankless water heaters in the Marietta and greater Atlanta areas. This is an investment that you won't regret!
Invest in Plumbing Services in Marietta, Georgia Today!
For a FREE estimate, you can get in touch with our friendly repairmen today. We are passionate about our communities and we guarantee to get the job done right. For more information about tankless water heaters or our other plumbing services and solutions, visit us online or give us a call at (770) 888-1931 today!
Add to favorites