Posted by Addison Henry in Real Estate School
on Jan, 2017 | 0 comments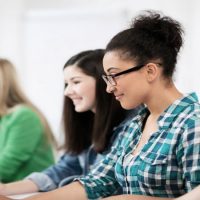 If you want to sell real estate in Utah, there are specific requirements set by the state that you must meet. One of those is to become licensed. A license is issued by the state and legally required if you want to sell real estate or engage in anything to do with the sale of real estate. To get a Utah real estate license, you must meet all of the following requirements.
Age and Criminal Background
You must be at least 18 years old. You also have to meet reputation, competency, honesty, truthfulness and integrity standards. Basically, this means you cannot have been convicted within the past three years of a misdemeanor crime of dishonesty, theft, fraud or misrepresentation. You also cannot have a conviction or have been released from prison or jail in the last five years for a felony crime of any kind.
Education
You need a high school diploma in addition to having completed a certified program of 120 hours in real estate education within the past year. You must have your diploma and course completion certificate to prove you meet both requirements when applying for a Utah real estate license.
Exam and Application
You must also complete and submit a licensing application, along with all school certificates and diplomas. You have to include two fingerprint cards and a certification of legal presence, and submit a fee with your application. Finally, you must also have completed and passed the sales agent exam within 90 days of submitting your application.
All of these requirements must be met in order for your Utah real estate license to even be considered. Do keep in mind that even if you provide all of the requested information and submit everything required in your license application package that it must be approved by an official before you are officially licensed to sell real estate in the state of Utah.
Add to favorites