Posted by Addison Henry in Roofing
on Nov, 2015 | 0 comments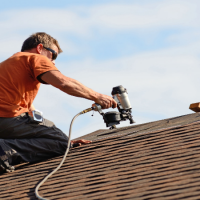 People often get complacent with everyday things in their lives. Their home is a good example. Unless there is a window in blatant need of repair, a door that will no longer close or rain streaming in the from the light fixture over the kitchen sink, these things are taken for granted. Windows, doors and roofs are generally thought to be low maintenance. However, that does not mean no maintenance. The roof of your home, for example, protects your largest investment. It would behoove the homeowner to make routine inspection and have Roof Repair in Johnston taken care of before the entire roof needs to be replaced at great expense.
It is true that a roof can last for up to thirty years. This does not mean that it is free of imperfections or that the elements have not done damage to certain areas. It is even possible that some homeowners don't realize that the rubber gasket that surrounds the bathroom vent on the roof can deteriorate causing a leak inside the home. Even the smallest leak can produce monumental and highly expensive problems. This is all the more reason to have the roof inspected and Roof Repair in Johnston taken care of promptly. This is an important step to safeguard your home and property. Every home deserves regular maintenance to keep it and the people who live there safe.
When you are ready to be a proactive homeowner, contact a reputable roofing repair company. Seek out one that has a great reputation. It is a great idea to talk with someone who has used the company before. Personal knowledge is often the best form of advertising. The company will send highly trained roofing experts to your home where they will inspect your roof and tell you if it is in good shape, needs the minor repair or even if it needs replacement. Following their advice can mean a great deal of savings for the homeowners. One can click here for more info and in turn receive peace of mind that they have done their best to protect their home and their family.
Add to favorites