Posted by Addison Henry in Tour Agency
on Apr, 2018 | 0 comments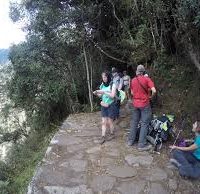 Thinking about getting off the beaten path of your Peruvian vacation? Want to experience something a bit more adventurous than the standard Inca Trail hike to Machu Picchu? If so, the Choquequirao Trek in Peru might be an ideal choice. However, there are several important tips that you need to know before starting your excursion.
Physical Condition
The trail to Choquequirao itself is quite challenging. Most of the trail is rated as moderate, but several areas, particularly those closer to the city itself, are very difficult. You need to be in good physical condition to make this trek. With that being said, the overall elevation is lower than the Inca Trail, so altitude sickness may not be as large a problem.
It's Long
The standard Choquequirao Trek in Peru takes five days. It also covers almost 39 miles (62 KM). Half the trip is a mountainside descent, and the other half requires ascending. Be prepared for the length of the trek.
No Facilities
The Choquequirao Trek in Peru is quite remote. There are no facilities, and you will camp each night in a tent, rather than staying in a hotel, or even in a hostel. There are very few settlements along the route, as well, and there is no vehicular access at all.
The Right Footwear
While there are many different gear options you need to bring, pay special attention to your footwear. You need good hiking boots capable of getting you to Choquequirao and back again.
Pack a First Aid Kit
The guide on your Choquequirao Trek in Peru will carry a first aid kit, but it is important that you pack one yourself. This will help ensure that there are plenty of medical supplies for the entire tour group.
Bring a Camera
While your smartphone no doubt takes decent pictures, the stunning scenery you'll travel through on your trek is best captured with an actual camera. You don't need to buy a DSLR just for the trip, but something better than your phone's camera is recommended.
These are just a few of the tips to follow to make your excursion as safe and memorable as possible. Remember that this is not a trek for the faint of heart or those who are in poor physical condition. Choose good hiking boots, pack a first aid kit, and plan effectively.
Add to favorites