Posted by Addison Henry in Automotive
on Mar, 2016 | 0 comments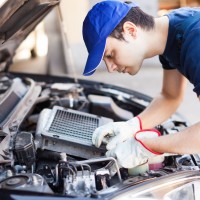 I find it difficult to pinpoint exactly where this fancy of mine came from; particularly as I grew up in a family who would never dream of buying anything but a genuine all American automobile. But, there is just something about this Japanese model that appeals to me.
Maybe it happened when I heard about all the environmentally good awards that had been given to the Lafayette plant named Subaru of Indiana Automotive, Inc. (SIA) which is a subsidiary of Fuji Heavy Industries Ltd and is the home of North American Subaru production.
Not Totally Imported
This plant is being continuously rated as one of the greenest in the land. Their awards include such as the WasteWise Industrial Material Recycling Gold Achievement Award; or, the WasteWise Climate Change Gold Achievement Award; plus zero land fill policies that led to their designation as a Backyard Wildlife Habitat by the National Wildlife Federation. I have to admit that, although I love to drive and like to go fast; I am, at heart, something of a closet greenie.
Anyway, SIA employs close to 4,000 people and produces more than 300,000 cars per year. The plant first went into production in 1989 and is currently producing the Outback and the Legacy but, in 2016 they will start Impreza production.
Their Technical Specs
The Impreza comes in 8 different variants with choices of 1.6 or 2 liter power plants in either sports or standard trim and either 4 or 5 doors. However, all the engines are of the horizontally opposed, 4 cylinder, 4 stroke, gasoline boxer type with multi-point sequential injection. All models have four wheel drive as standard. As an engineer; this alone impresses me.
Performance
Acceleration from naught to 60 miles per hour in 10.5 to 12.6 seconds (depending upon engine size and model) isn't bad for what is basically a pretty luxurious car. Likewise; a top speed of 112 mph (for the 1.6 engine) and 122 (for the 2 liter) sounds good to me. All this with fuel consumptions that can be as high as 37 miles to the gallon on highways – is it any wonder that I fancy owning one?
But
Unfortunately, my current financial situation does not allow me to go straight out and buy one. However, I checked dealers' online webpages and was pleased to discover a good selection of nearly new pre-owned ones at prices that I could afford at Hawk Subaru of Joliet. That was when I fulfilled my fancy and went out and purchased a used Subaru Impreza near Chicago. By opting for second hand, my budget actually ran to a top of the line model. Click here to know more.
Add to favorites