Posted by Addison Henry in Officiants
on Jun, 2017 | 0 comments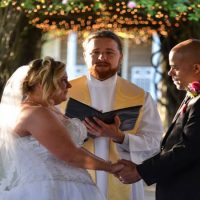 Weddings are a time for celebrations. Families get together. Friends and family throw their support behind the bride and groom. And everybody has a rollicking good time. Getting to this point, though, can entail an uphill battle that includes months of planning, coordination and stress. Here's a handy planning checklist to help you plan for your very own Catholic wedding:
Set a date
This will help you get the rest of the planning off the ground. By knowing the time and day, you can finally pick a church or get in touch with the priest or minister who will perform the ceremony. Keep in mind that Lent season is going to be a busy time for priests so you might want to go with other dates.
Get a copy of the requirements
Your church will have marriage requirements that might include your baptismal certificate, proof of communion and confirmation, among other things, says The Knot. Make sure you know the full list so you can put together those documents as quickly as possible.
Take the Pre-Cana program
This is the premarital preparation program that the Church requires. You'll need to take this around 9 to 11 months before D-day. This is also a good time to ask about any other requirements or rules involving a Catholic wedding ceremony.
Choose your bridal party
You'll need to pick the members of your bridal party at this time as well and that includes picking out a maid of honor and best man.
Come up with the list
Think long and hard on the final guest list. You'll need to finalize that as well as choose who will be present at the ceremony and who will need to go straight to the reception area. Book a rehearsal dinner spot, too.
This checklist only covers a few of the essentials but does give you a good idea where to start!
Add to favorites