Posted by Addison Henry in Roofing
on Oct, 2015 | 0 comments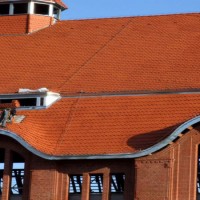 Property owners need to know when they need new Roofs in Corvallis OR. Thankfully, there are some common warning signs they can look for to let them know when it's time to contact a roofing, contractor. Age is one of the things a homeowner has to think about when determining whether or not a new roof is needed. For the most part, a roof should last at least two decades. Some of the more durable roofing materials will last much longer, but a lot of residential properties use asphalt roofs. Getting an older roof inspected will let a person know its condition.
There are other signs that Roofs in Corvallis OR, need to be replaced. When shingles start buckling and curling, it's not a good sign. Homeowners can look for shingle problems from the ground. They can look at the sloping areas of their roofs to see if the edges of the shingles are curled up. Shingles that are damaged will also lose some of their protective covering. Missing shingles is a clear sign that something is not right with a roof. After a storm, there may be shingles missing from a roof. It doesn't take much wind power to knock shingles off a roof that is already damaged. A roof that is leaking too much might also have to be replaced.
When a homeowner gets tired of the way a roof looks, it may be time for a new roof. There really doesn't have to be anything physically wrong with a roof for it to be replaced. Roof replacement might be done just to change the color of a roof. Perhaps a homeowner wants a more energy-efficient roof. Maybe the old roof is taking away from the home's curb appeal.
What if a roofing contractor is offering a nice deal on roof replacement? Homeowners who have extra money for renovations are always remodeling their homes in some way, and a roof is as good as place as any to start remodeling a home. People can click here to find more out about ideas for new roofs. Roofing technology is constantly evolving, so customers now have more roofing options than ever before.
Add to favorites