Posted by Addison Henry in Doors
on Oct, 2017 | 0 comments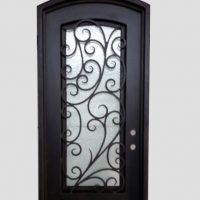 An iron door is the perfect blend of form and function that improves the aesthetics and security of your home. Iron Doors Now can help you find the perfect iron door for your home. You can explore their stock online, or even request a completely custom design that will help solidify your home as a unique house on the block.
Durable Design
Iron doors are tough enough to withstand rough weather. They are designed to resist freezing in sub-zero temperatures and built to endure hurricanes. Compression locks that secure the glass doors within are built to resist up to 2,000 pounds of pressure. Best of all, these doors are built to last for the long haul, and to resist damage from moisture, weather, and chemicals.
Instant Curb Appeal
Whether you've just moved in and are working to make a new house your own, or you've lived in your home for years and are ready for an update, an iron door provides instant curb appeal. Your front door doesn't have to look like the entryway to a fortress to be as sturdy as one. Iron Doors Now offers plenty of iron door designs to choose from, including many that feature fine lines, intricate curls, and floral-shaped accents.
Light
Natural light is an important feature of any home, and many are built with optimizing the amount of sunlight you can have in mind. Unlike a traditional wooden door, an iron door is built to let in the light through double textured panes of glass. When you have an iron door, you don't need to sacrifice security or privacy to let the natural light of the sun into your home.
When you add an iron door to your home, you're investing in a long-lasting, durable door that offers security, curb appeal, and light. Iron Doors Now can help you find a design to fit your functional and aesthetic requirements, and that you will love for years to come. Visit the website www.irondoorsnow.com for more information.
Add to favorites