Posted by Addison Henry in Construction and Maintenance
on Mar, 2017 | 0 comments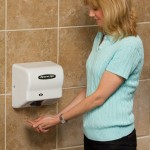 The best hand dryer manufacturers are finding that the high-speed hand dryers they are producing are extremely popular, not just because they dry hands quickly and hygienically, it is also because of their Green Certifications. As more and more public and private facilities take the environment into account with the decisions that are made, hand dryers are under the spotlight.
In the past, hand dryers needed to run on dedicated circuits, this is no longer the case. Today, hand dryers are easily installed in conventional circuits ranging from 100 volts up to 240 volts, installation is simple as the dryer is self configuring; there is no need to make any internal adjustments to the dryer. What is most interesting from an environmental point of view is the fact that they use far less energy, up to 90 percent less.
Hand dryer manufacturers have listened to common complaints; as a result, hand dryers are far more efficient. Hand drying that used to take a half a minute or more now is done in 10 seconds. This is one of the main reasons why the use of electric hand dryers has jumped, people claimed that they were simply too slow, the units commonly available today are fast, use far less energy and help companies and organizations to meet their "green" goals.
Hand dryers vs. paper towels:
Depending on how the hand dryer is set up the power consumption, with heat, is less than 1200 watts, if the heating function is not required the power consumption is only about 750 watts. The cost per KwH is minimal when you consider how much power is required to produce paper toweling and on top of that, there is the extra costs associated with cleaning up the waste and disposing of it.
Add to favorites